At Comcast, diversity, equity and inclusion (DE&I) is a core part of our company year-round – from the contributions of our teammates to our connections with our customers and communities. And in June, we are especially proud to highlight the LGBTQ+ community through our participation in parades and events, local partnerships, sponsorships and across our Xfinity platforms.
Here are some of the ways we are celebrating:
In The Community
Our teams look forward to local Pride parades and events every year in celebration of Pride Month. This year, members of our OUT@Comcast Employee Resource Group (ERG) attended parades in Annapolis (MD), Baltimore (MD) and Washington, D.C. We will also be attending the Richmond Pride Parade in September 2023.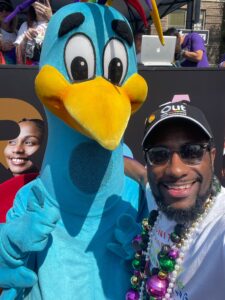 "As a member of OUT@Comcast, I have been able to find a place of belonging, where I can identify and network with colleagues of similar experiences, backgrounds and goals. Pride is a time where we can come together and celebrate the milestones and obstacles that our community has overcome and love ourselves and our communities out loud from a place of pride and pure love." – Brian, Comcast Beltway HR Manager
In addition to participating in the various Pride parades, we remain dedicated to creating meaningful partnerships where we live and work. On June 28, we will be partnering with the Maryland LGBTQ Chamber of Commerce to celebrate Pride at the Orioles Pride Night Game.
Our Employees
Our passionate employees inspire us all, and we're grateful for their commitment to making our company a place where people feel safe and valued. Meet Gabe, the Xfinity Store Manager for our Owings Mills, MD location: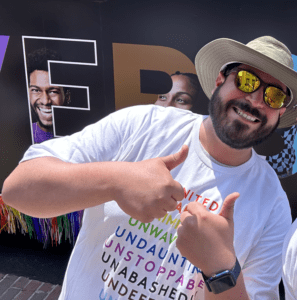 What does Pride Month mean to you?

Pride Month is a time to honor those who have fought for LGBTQ+ rights and to celebrate your true authentic self, while embracing others around you who are on the journey to do the same.
How have you made an impact at Comcast or in your community?
I am a huge advocate for diversity, equity and inclusion – I am a member of Comcast's Council, the Communications Co-Lead for OUT@Comcast and a member of all our ERGs. In addition to participating in some of the employee events we've hosted that encourage acceptance and celebrate our incredible differences, I've made it a point to make an impact in my community, as well. I've participated in events that aim to grant members of the LGBTQ+ community with the rights they deserve and recently participated in my first Pride parade in Washington, D.C.! I will continue to serve as an ambassador for love and equality, while creating safe environments for others to embrace their truth.
What is your favorite part of celebrating Pride?
Seeing everyone come together to show their pride and support of the LGBTQ+ community will never get old. If you have a chance to participate in a local Pride parade, I highly recommend it. It's one of the most beautiful experiences I've been a part of.
Pride on Xfinity
Xfinity celebrates Pride year-round with its best-in-class LGBTQ+ Film & TV destination on X1, Flex and Xfinity Stream. Just say "Pride" into your Xfinity voice remote.
To learn more about how we are celebrating Pride across Comcast NBCUniversal, click here.