Comcast today announced it is awarding an additional $1 million in grants to 100 small businesses owned by women and people of color, including Black, Indigenous, Hispanic, and Asian American owners, among others, in Washington, D.C., bringing the total to $2 million to date as the company previously awarded $1 million to D.C. small businesses in November 2021. These recipients are part of the more than 9,500 entrepreneurs nationwide – and more than 230 in The District alone – who have been selected as Comcast RISE awardees since November of 2020.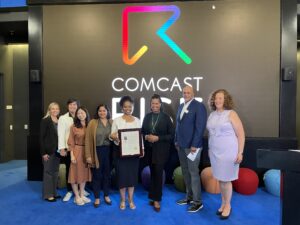 Beginning October 3 through October 16, eligible small businesses can apply at www.ComcastRISE.com.
Washington, D.C. is one of five cities, also including Chicago, Miami, Oakland, and Seattle, that has been selected in the latest round to award a $10,000 grant to 100 local businesses from the Comcast RISE Investment Fund, for a total of $5 million across 500 businesses, bringing the amount awarded nationwide to $21 million to date.
"These are the types of investments that are going to bring generational change to our city. Local businesses are the backbone of our economy and these grants can make a big difference for a small business," said D.C. Mayor Muriel Bowser. "We are excited that for the second year in a row, Comcast is investing in local talent through the Comcast RISE Investment Fund and helping us give more Washingtonians a fair shot."
"As the pandemic persisted, the support from Comcast RISE was crucial in helping my business make it through an incredibly tough stretch," said Monica Kang, a former Comcast RISE Investment Fund recipient and CEO of InnovatorsBox, a Washington D.C.-based creative leadership consultancy. "I'm so thankful for all the support Comcast RISE provides to the community and I'm excited a new round of grants are available as D.C. small businesses continue to recover. I know there are other business owners like me who would thrive with this support, and I encourage all eligible businesses to apply."
In addition to InnovatorsBox, a few of the previous Comcast RISE Investment Fund recipients in Washington, D.C. include:
"Entering our second round of the Comcast RISE Investment Fund in D.C., we have seen firsthand how impactful these funds can be for small businesses owned by women and people of color in the city," said Michael Parker, Senior Vice President of Comcast's Beltway Region. "We are proud to strengthen our commitment to the Washington D.C. small business community and ensure underrepresented entrepreneurs have access to the funding and digital tools they need to thrive."
Comcast RISE also invests in ongoing mentorship and resources to help businesses succeed over the long-term. The program has partnered with Ureeka, an online platform for entrepreneurs, to provide grant recipients with business coaching to help build skills in company foundation, growing customers and financial stability. All Comcast RISE recipients will also have a specialized online networking community within Ureeka with access to educational resources, sources of capital, and vetted experts such as U.S. Black Chambers, National Asian Pacific Islander Chamber of Commerce & Entrepreneurship, U.S. Hispanic Chamber of Commerce, Association for Enterprise Opportunity, Walker's Legacy, and Operation Hope.
Comcast RISE was formed in late 2020 to give small businesses owned by people of color, from bakeries and barber shops to childcare centers and cleaning services, the grants needed to not just survive, but thrive. More than 9,500 recipients from 704 cities across 37 states to date have been awarded. In November 2021, Comcast RISE announced a major expansion to all women-owned businesses nationwide.
In addition to the Investment Fund, Comcast RISE, which stands for "Representation, Investment, Strength and Empowerment," provides the opportunity for small businesses owned by people of color and women nationwide to apply for a TV media campaign, creative production of a :30 commercial or advertising consulting services from Effectv, the advertising sales division of Comcast Cable, or technology makeovers, including computer equipment, internet, voice and cybersecurity, from Comcast Business.
Through Comcast RISE, the company will support 13,000 small businesses, owned by people of color and women by the end of 2022.
All eligible applicants will receive a monthly Comcast RISE newsletter with educational content, and all small business owners can visit the Comcast RISE destination on the X1 platform featuring aggregated small business news, tips, insights, and more. Just say "Comcast RISE" into the X1 voice remote.
Comcast RISE is part of Project UP, the company's comprehensive initiative to advance digital equity and help build a future of unlimited possibilities.
For more information or to apply for either an Investment Fund grant or marketing and technology resources, visit www.ComcastRISE.com.