This Pride Month and all year long, we celebrate the LGBTQ+ community, from curated content on Xfinity platforms to employee engagement and more, as part of our ongoing commitment to diversity, equity and inclusion (DE&I).
Today, we spotlight one of our team members, Denise, a Manager at our Rotunda Xfinity Store in Baltimore, Maryland and a member of our OUT Employee Resource Group (ERG), who is making an impact at our company and in our community every day.
We caught up with Denise to discuss her role at Comcast, what Pride Month means to her and some of the activities she is most excited about this month: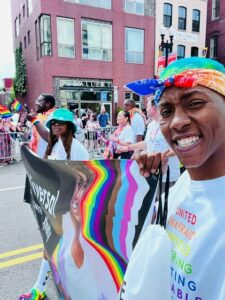 Q: What does Pride Month mean to you?
A: Pride Month is a time to celebrate equality, however one chooses. It's a moment to truly be yourself. For some, this means attending parades or participating in other fun gatherings. For me, it has become a time of reflection about how far the LGBTQ+ community – both locally and nationwide – has come in recognizing and appreciating everyone's differences. I personally love to celebrate Pride with my friends and family, and am inspired by all the support from small businesses in the community. During this time, I feel extra support everywhere I go.
Q: What local Pride Month activities were you most excited about?
A: This year, Beltway OUT partnered with DC Capital Pride and The Pride Center of Maryland in support of two of the most amazing parades we've seen to date!
Q: How do you feel supported at work during Pride Month and all year long?
A: As a member of OUT, I am fortunate enough to be involved in the planning and implementation of Pride initiatives, events, discussions and more throughout the year. Our motto is, "you don't have to be to belong" and this rings true. We have a lot of members who are a part of the LGBTQ+ community in addition to allies who are simply there to show love and support year-round.
Being a member of multiple ERGs, especially OUT, has presented so many opportunities to create and be a part of some special moments in Beltway. I always enjoy networking with people, many who I may not have met otherwise, who are eager to discuss things that matter. More often than not, you'll find that you have more in common with people than you initially thought.
Q: What do you find most rewarding about your work at Comcast?
A: Aside from the amazing people I get to work with here, I was excited to have had the opportunity to help with the launch of Xfinity Mobile. In addition to our product offerings, I find the work we do for our customers to be very rewarding: supporting their small businesses, connecting their families to all the TV shows and movies they love, and even assisting with education and home-schooling opportunities has made each day better than the last.
For more Beltway employee spotlights, visit: https://comca.st/3A2pOUM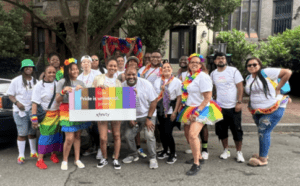 The celebration of Pride is part of our ongoing commitment to DE&I, which was accelerated in June 2020 with a $100 million commitment to meaningfully effect systemic change. To deepen our impact in the communities we serve, we're investing $1 billion to reach millions of people over 10 years through Project UP – our comprehensive initiative to advance digital equity and help build a future of unlimited possibilities.
To learn more about our commitment to DE&I, visit: corporate.comcast.com/impact/diversity-equity-inclusion.