As part of our continued effort to advance digital equity and connect more residents to high-speed Internet and digital skills training, we have opened our 100th Lift Zone in the Beltway Region – which includes Maryland, Virginia, Washington, D.C., and parts of Delaware, North Carolina and West Virginia.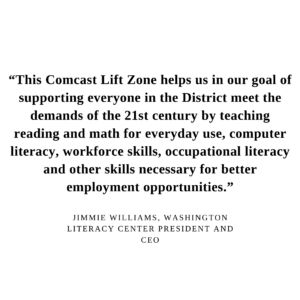 The new Lift Zone, located at Washington Literacy Center (WLC) in D.C., offers free high-speed WiFi access to help students and community members get online, participate in distance learning or remote work, look for and apply for jobs and access digital skills content.
Comcast and WLC held a ribbon cutting ceremony for the opening of the new WLC location and Lift Zone on May 18, which featured remarks from local elected officials, students and community leaders including:
Stacy Burnette – Senior Director, Government & Regulatory Affairs, Comcast's Beltway Region

 

Doneika Dempsey – Student at Washington Literacy Center

 

D.C. Councilmember Brooke Pinto, Ward 2

 

D.C. Councilmember Robert White (At-Large)

 

Jimmie Williams – President & CEO of the Washington Literacy Center



To commemorate the occasion, Comcast donated 20 new laptops to WLC on behalf of its Internet Essentials Program and provided attendees with information on the federal government's Affordable Connectivity Program (ACP), which provides eligible low-income residents with a $30 per month benefit toward their Internet or mobile bills.
From WLC to the Boys and Girls Club of Metropolitan Baltimore to the Green Beret Project in Dover, the Lift Zones effort complements Comcast's Internet Essentials program, which, since 2011, has connected a cumulative total of more than 10 million low-income people to the Internet at home.
"We're proud to open our 100th Lift Zone in the region, which is a milestone that reflects our commitment and determination to ensure every person has the Internet access and resources necessary to succeed in today's digital economy," said Michael Parker, Senior Vice President for Comcast's Beltway Region.
"We're grateful for Comcast's donation of laptops to our students and its decision to locate a Lift Zone in our new center," said Jimmie Williams, Washington Literacy Center president and CEO. "This Comcast Lift Zone helps us in our goal of supporting everyone in the District meet the demands of the 21st century by teaching reading and math for everyday use, computer literacy, workforce skills, occupational literacy and other skills necessary for better employment opportunities."
Comcast has launched more than 1,000 Lift Zones nationwide as part of Project UP, a comprehensive initiative to advance digital equity and help build a future of unlimited possibilities. Backed by a $1 billion commitment to reach tens of millions of people, Project UP encompasses the programs and community partnerships across Comcast, NBCUniversal, and Sky that connect people to the Internet, advance economic mobility, and open doors for the next generation of innovators, entrepreneurs, storytellers, and creators.
To find a Lift Zone near you, please visit: https://internetessentials.com/learningsearchpage