As part of our continued effort to advance digital equity and broadband adoption, Comcast has opened two new Lift Zones in Washington, D.C. – DC Dream Center and Sasha Bruce Youthwork – bringing the total number of Lift Zones in the nation's capital to 38.
In two special ribbon-cutting ceremonies last week, Comcast presented these Lift Zone partners with grants totaling $70,000. In addition, Comcast employees were on hand to help sign up eligible residents for the Emergency Broadband Benefit (EBB), a temporary benefit program from the federal government designed to help qualified low-income households with a credit of up to $50 per month toward their internet service until the program's funding runs out. It is available on all tiers of Xfinity Internet service, including Internet Essentials. New and existing customers who are interested in participating can visit www.xfinity.com/EBB to see what options are available to them and register.
Comcast Lift Zones provide free, high-speed Wi-Fi access inside community centers to help students and adults get online, participate in distance learning or remote work, do homework or look for and apply for jobs. In addition to hotspot connectivity, Comcast and its network of nonprofit partners also will provide access to hundreds of hours of digital skills content to help families and site coordinators navigate online learning.
DC Dream Center, located at 2826 Q Street, S.E., serves the community with a range of programs including mentoring, tutoring, personal development and legal assistance.
"As a Lift Zone partner, the DC Dream Center is committed to helping those in our community have a safe place where they can access reliable, high-speed internet to explore educational and career opportunities," said Executive Director Ernest Clover. "We strongly believe that everyone should benefit from the resources that will help them achieve their goals. We're working hard every day to inspire our youth and adults to dream, equipping them to reach their fullest potential."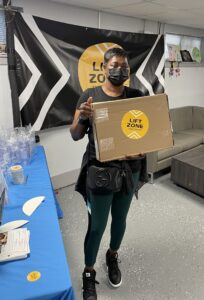 Sasha Bruce Youthwork provides young people and their families with the resources needed to stay safe and healthy and have access to educational and career opportunities. The nonprofit, which is located at 741 8th Street, S.E., also is focused on ending youth homelessness.
Deborah Shore, executive director and founder of Sasha Bruce Youthwork, said, "Since the opening of our Lift Zone at Barracks Row, students have had access to better connectivity that has allowed them participate in virtual learning. Thanks to this Lift Zone, three young people completed their GED! And at our Family Success Center, the Lift Zone is helping families enroll in city services, while helping to bridge the digital divide between younger and older residents."
"We are proud to work with community partners like DC Dream Center and Sasha Bruce Youthwork to get more people connected to the internet," said Misty Allen, vice president of government affairs for Comcast's Beltway Region. "Our teams continue to make our network both smarter and stronger while also ensuring we continue to drive adoption of the free and low-cost internet service options that already exist in the city."
Lift Zones complement Comcast's Internet Essentials program, which has connected a cumulative total of 10 million low-income Americans since 2011 to broadband internet at home, including over 100,000 in Washington, D.C. Lift Zones and Internet Essentials are part of Project UP, Comcast's comprehensive initiative to advance digital equity and help build a future of Unlimited Possibilities, backed by a $1 billion commitment to reach 50 million people.
Lift Zones in Washington, D.C., include:
• 50th Street Family Program
• Arthur Capper Community Center
• Bald Eagle Recreation Center
• Barry Farms Recreation Center
• Boys & Girls Club – Dunbar Alexandria Olympic Club
• Boys & Girls Club – FBR @ THE ARC (Clubhouse 720)
• Boys & Girls Club – George Ferris (Clubhouse 6)
• Boys & Girls Club – Richard England (Clubhouse 14)
• Byte Back
• Channel Square
• Dance Institute of Washington
• DC Dream Center
• Deanwood Community Center
• Edgewood Recreation Center
• Faircliff Plaza West
• Far Southeast Family Strengthening Collaborative
• Faunteroy Community Enrichment Center
• Fort Davis Recreation Center
• Fort Stanton Recreation Center
• Fort View
• Greater Washington Urban League
• Housing Up – Shelter
• Housing Up – Washington DC Shelter – Family Shelter 1
• Housing Up – Washington DC Shelter – Family Shelter 2
• Housing Up – Washington DC Shelter – Family Shelter 3
• Housing Up – Washington DC Shelter – Wayne Place Housing for Youth
• Hubbard Place
• Jobs Have Priority, Inc.
• Kenilworth Recreation Center
• Latin American Youth Center
• Life Pieces to Masterpieces
• Little Lights Ministries 1
• Little Lights Ministries 2
• Little Lights Ministries 3
• Recreation Wish List/Southeast Tennis & Learning Center
• Sasha Bruce Youthwork – Barracks Learning Lab
• Sasha Bruce Youthwork – Clay Terrace Family Success Center
• Trinidad Recreation Center