We are excited to announce the opening of a new Xfinity Store in Woodbridge – giving customers in the area more convenient access to explore and learn about Xfinity products and services. The company currently has a total of 15 convenient retail locations in Virginia – and 35 throughout Comcast's Beltway Region, which includes Maryland, Virginia, Washington, D.C., and parts of Delaware, North Carolina and West Virginia.
"The new Xfinity Store opening in Stonebridge at Potomac Town Center will be a great addition to the community and is a really convenient location for residents," said Debbie Jones, President & CEO, Prince William Chamber.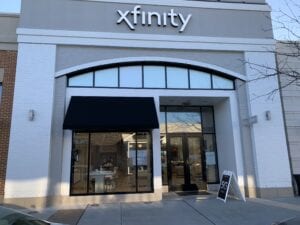 Located at 15101 Potomac Town Place, Suite 115, in the Stonebridge at Potomac Town Center in Woodbridge, the new 3,513-square-foot store is designed strategically by product area – Xfinity Mobile, Xfinity X1, Xfinity Home and Xfinity Internet. The store also has a dedicated space for Comcast Business where both customers and prospects can discuss their business technology needs with an expert. This store replaces the one that was located at 14529 Potomac Mills Road at Potomac Festival in Woodbridge.
"Our new Woodbridge Xfinity Store is an important part of our ongoing effort to improve the customer experience," said Abdlgadir Namir, Senior Manager, Retail Sales Operations for Comcast's Beltway Region. "Customers can now come into our stores to experience our latest products and services from Xfinity xFi and Xfinity Home to our X1 and Flex video platforms and the latest and greatest mobile devices available on Xfinity Mobile."
Store associates can demonstrate the unmatched video experiences on the X1 platform; how Xfinity xFi uses the fastest internet speeds and AI-powered security to transform the home Wi-Fi experience; a growing network of Xfinity Home smart home devices and services; and the savings advantages inherent with Xfinity Mobile. In addition to receiving product demonstrations, customers can ask about their current services or devices, learn how Xfinity apps make it easy to manage their account, sign up for all Xfinity services, pay bills at kiosks, return or acquire equipment and purchase accessories like Bluetooth speakers, headphones or mobile phone cases.
The Woodbridge Xfinity Store will be open Monday through Friday from 10 a.m. to 7 p.m., on Saturday from 10 a.m. to 6 p.m. and on Sunday from 12 p.m. to 5 p.m. In-store appointments can be scheduled online at xfinity.com/stores. Just click "Find an Xfinity Store," then "View Store Details" and make an appointment.
To keep employees and customers safe in the wake of COVID-19, all Xfinity retail stores are operating with increased safety measures including limiting store capacity, hand sanitizing stations, directional signage and clear barriers, increased store cleanings throughout the day, and requiring all employees and customers to wear face coverings.