At Comcast, one of our top operating principles is diversity and inclusion. We believe that a diverse and inclusive company is a more effective company, leading us to approach diversity as a driver for business growth and innovation. We also celebrate Pride all year long and are excited to introduce a new partnership between Comcast Xfinity's Beltway Region and Revry, the first global queer streaming network, to introduce The Beltway Pride Screening Series – a collection of six compelling films that explore life through the lens of the LGBTQ community.
Each of the six movies in the The Beltway Pride Screening Series can be watched for free online via the Revry.tv network. A new film will be showcased each month through October. Thought-provoking panel discussions will follow each screening and highlight the unique needs and challenges that LGBTQ members face. Panelists will include filmmakers, cast members and members of local LGBTQ organizations discussing such topics as race, gender, sexual identity, politics and culture.
Available Now – July 30: VINTAGE – Families of Value
The first film VINTAGE – Families of Value is available now through July 30. This impressionistic documentary film, which is in its 25th year, intimately explores three African-American families through the eyes of lesbian and gay male siblings – two or more in the same family. Learn more about the film here. And on Thursday, July 30 from 8-8:45 p.m. EDT/5-5:45 p.m. PDT, filmmaker Thomas Allen Harris and other cast members will join Pride Center of Maryland's LaKesha M. Davis to discuss this groundbreaking documentary, which was partially filmed in Baltimore.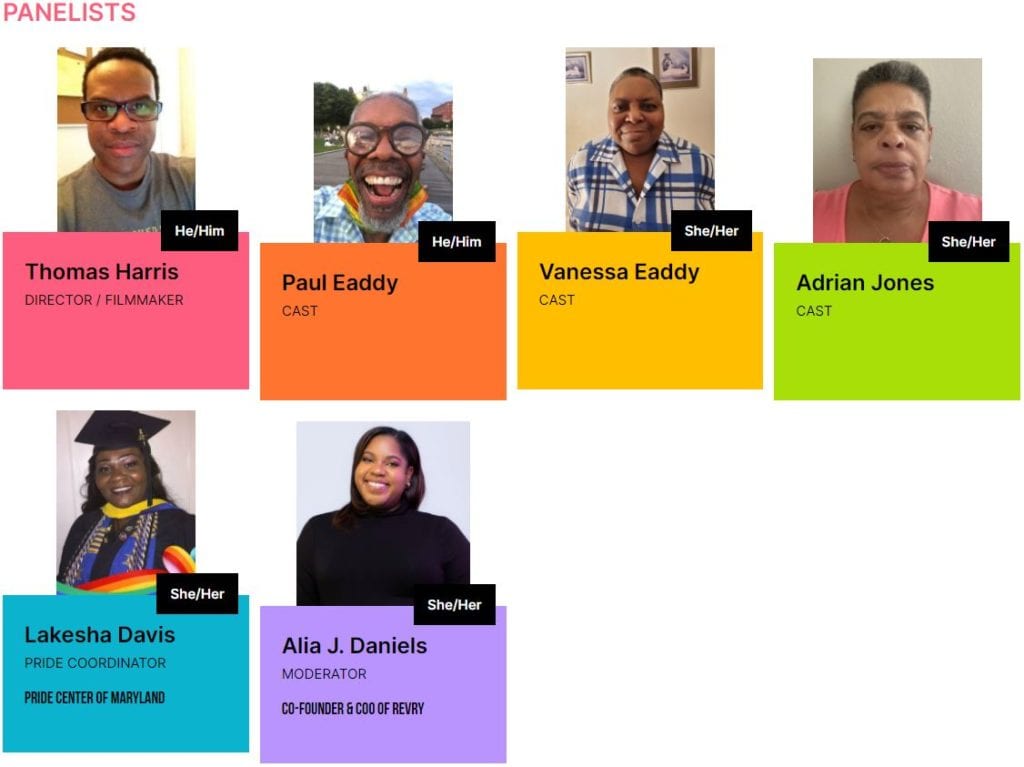 "We know that Pride isn't just a month-long celebration, but a year-long commitment to supporting the LGBTQ community," said Tabitha Williams, Senior Manager of Events & Multicultural Marketing for Comcast's Beltway Region. "In a season where Pride and LGBTQ festivals are either canceled or postponed, Comcast's Xfinity together with Revry hope to drive deeper, authentic engagement with LGBTQ members in our region."
Following the online screenings, Xfinity X1 and Flex customers who subscribe to Revry can access the films directly on the TV. Revry's programming is accessible to Xfinity customers over the Internet on X1 and Flex and can be found by saying "Revry" into the Xfinity Voice Remote or within Xfinity on Demand's LGBTQ Film & TV collection—the largest first-of-its-kind collection of LGBTQ content available at home and on-the-go.
"As the first LGBTQ+ virtual cable TV network, Revry offers free live TV channels and on-demand viewing of its global library featuring LGBTQ+ movies, shows, music, podcasts, news and exclusive originals all in one place – reaching up to 250+ million people in over 130 countries," said Alia J. Daniels, COO / Co-Founder of Revry. "In a time where division is easily amplified, we recognize Comcast's commitment to honor diversity, and are thrilled to partner with the company in sharing this quality programming, especially with the diverse Beltway Region."
For more information on The Beltway Pride Screening Series and its upcoming screenings, click here.