At Comcast NBCUniversal, we believe all employees and customers should feel valued and respected for who they are. We have a long-established commitment to Diversity & Inclusion and have made hiring a diverse workforce a core part of our values and business. We also recognize that our customers have diverse backgrounds and interests, which is why we provide year-round access to a wide variety of programming.
Special moments, like Black History Month, give us an exciting opportunity to go above and beyond to celebrate the Black community's remarkable contributions to American culture. Here are some of the national and local initiatives that Comcast NBCUniversal is doing to celebrate Black History Month this year:
Xfinity TV's 'Black Film & TV' Collection
This easy-to-browse collection pulls together all of the best Black film, TV and web content we have to offer into a single, unified experience. During Black History Month, it's full of award-winning movies, documentaries, biopics and television series. Select content will also be available on Xfinity Stream and Xfinity Flex. And, some titles will also be in 4K.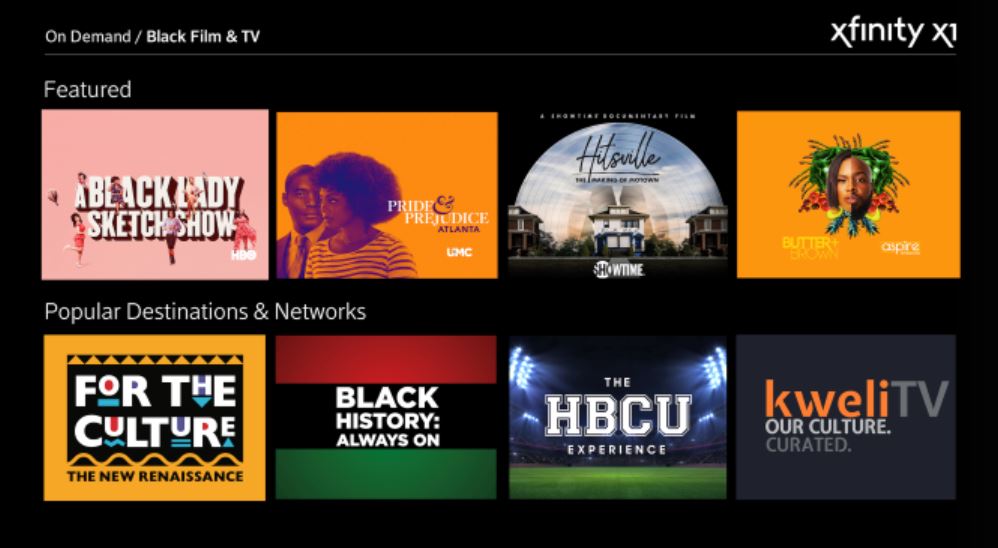 Free Preview Week on X1: February 10-16
For the second year in a row, we're excited to offer a free week of access to content from premium networks and subscription video-on-demand services, including African American owned content. The Free Preview runs from February 10-16 and will include content from more than a dozen programmers. Just say, "Black Film and TV" or, "Black History Month" into your Xfinity X1 Voice Remote to get started, or click here to learn more.
NBCUniversal
This month, reporters from NBC News, NBCBLK.com — which offers the latest news articles, photos and videos covering stories, issues and opinions of the Black community — MSNBC and Today will honor Black History Month by publishing and producing stories about people who have made or are making a difference. Click here to learn more about some of these changemakers.
In addition, Focus Features and Regal have partnered to offer free screenings of Harriet in 50 theatres around the country on February 11, including theaters in the Beltway Region. The film depicts the life of one of history's most courageous African American heroes, Harriet Tubman, bringing her story to the big screen for the very first time. Free tickets can be ordered through Gofobo here. A dress Erivo wore in the film will also be put on display in an exhibit celebrating Black History Month at the Motion Picture Association headquarters, in Washington, D.C., along with reproductions of timecards from Noble Johnson.
Smithsonian Channel's Black in Space: Breaking the Color Barrier
For the sixth consecutive year, Comcast is partnering with Smithsonian Channel to offer special, private screenings of its new documentary Black in Space: Breaking the Color Barrier. It honors the unsung heroes who raced to bring diversity to the skies and shines a light on this fascinating, untold story. The documentary will premiere on Smithsonian Channel on Monday, February 24 at 8/7c. The next day, it will be available On Demand.
Community Impact and Employee Volunteerism
All year long, and especially during Black History Month, our employees participate in a range of events here in the Beltway Region and throughout the country. Many are members of our Black Employee Network (BEN), which was created to strengthen relationships among Black employees and the wider Comcast NBCUniversal community. Most recently, employees partnered with City Year Washington, D.C., for the 25th national Martin Luther King, Jr. Day of Service and helped beautify Stuart-Hobson Middle School in northeast Washington, D.C. And this month, our BEN members will volunteer at food banks throughout the Beltway Region to help provide meals to those in need. Stay tuned for more information about their activities.