Our employees are the drivers of our business' success, and we're proud of the great work they do for our company and our customers. In honor of Veterans Day and Military Appreciation Month, meet Michael Hackworth, a senior manager of recruitment and U.S. Army Veteran. Hear how Michael embodies Comcast's commitment to diversity and inclusion.
Michael joined Comcast in 2017 and has worked with the sales recruitment team to successfully secure job placements throughout the Beltway Region. He enjoys meeting diverse groups of candidates at job fairs and events and has a true passion for finding Comcast careers for the military community.
Michael was recruited by a veteran and is now proud to help Comcast reach its goal to hire 21,000 veterans, military spouses, and National Guard and Reserve members by 2021. One way he's doing this locally is by implementing a program that works with the Fort Lee Army Base in Virginia and the Dover Air Force Base in Delaware to hire and train military spouses and other military members to join our customer care team. We understand the challenges and responsibilities of the military community and the need for flexibility in work schedules. This program allows them to work virtually from home or on the military base.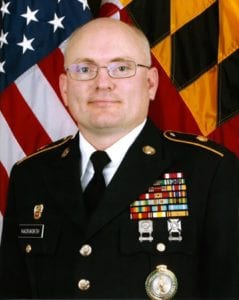 Prior to Comcast, Michael served a full military career with the U.S. Army, which showed him the importance of working with people from different backgrounds and histories, as it "brings culture and diversity to the way you think." When he joined Comcast, he felt the same inclusion immediately and was "honored" to be part of a company that recognized that diversity makes it a better place to work.
For Michael, Military Appreciation Month is a time to remember what the military does for us every day. While it is nice to have a month dedicated to showing our appreciation, we should continue to remember those who have served and currently serve year round. And, he isn't alone. Michael co-leads VetNet, a Comcast employee resource group that provides dedicated support to Comcast NBCUniversal's programs and outreach to the military and veteran community. He gets to work with team members who "share [his] same passion" on national events such as Wreaths Across America, the Army 10-Miler and local Comcast Cares Day volunteer projects with organizations such as Hero Dogs, Inc., Tech For Troops and MCVET.
We believe that a diverse and inclusive company is a more effective company, leading us to approach diversity as a driver for business growth and innovation. We're always looking for motivated team players who enjoy conquering new challenges while helping our customers stay connected to moments that matter. Click here for more information, and be on the lookout for more profiles on our employees.