At Comcast, Diversity & Inclusion is a fundamental part of the way we do business. We build it into every aspect of the company, whether that's our technology and programming, our interactions with our colleagues and customers or our work in the communities we serve. In honor of National Autism Awareness Month in April and Global Accessibility Awareness Day coming up on May 16, we are highlighting some of the ways our company and our Beltway Region employees are working to support people of all abilities.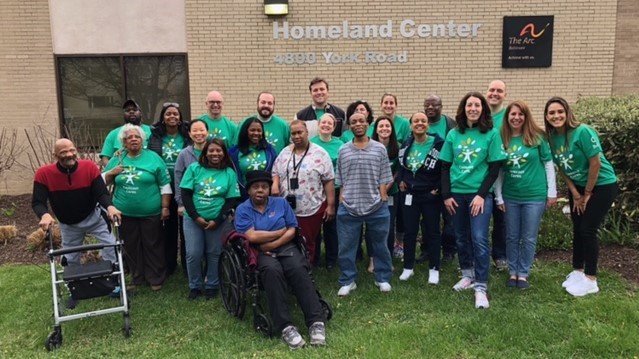 One of our technology team's founding principles is that when we make a product more accessible, we improve it for everyone:
With Xfinity Home, families impacted by disabilities like autism can use alerts and security cameras to monitor for open doors and windows.
Using Xfinity xFi parental controls, time alerts and usage schedules, customers can ensure balanced Internet habits.
And with Xfinity TV, our award-winning X1 voice remote gives customers the ability to change channels, search for shows, enable closed captioning and more with simple voice commands, bringing a new level of independence to those who have limited mobility, dexterity or vision. Xfinity X1 also includes the industry's first talking guide, a voice guidance feature that "speaks" what's on the screen and gives customers with visual disabilities the freedom to independently explore thousands of TV shows and movies.
As reported in our 2018 Diversity & Inclusion report, 1.5 million Xfinity customers nationwide enabled an accessibility feature — like Logan, an 8-year-old from Annapolis, MD, who has autism. Logan was non-verbal for many years, and the X1 Voice Remote and talking guide encouraged him to try and expand his vocabulary.
We also provide customers who rely on services like closed captioning, video description and voice guidance access to a specially trained support team at our Accessibility Center of Excellence to ensure all of our customers have the best possible experience.
In addition to being focused on providing accessible technology and service, our employees are also passionate about getting involved. Over the coming weeks as part of Comcast Cares Day, one of the largest corporate commitments to volunteerism and service in America, we are partnering with four local organizations that serve people with disabilities:
Tuesday, April 23: Itineris Foundation Inc., Baltimore, MD: Itineris is here to support adults with Autism Spectrum Disorder — to build on the progress they made in the school systems, to further their journey toward greater independence and to increase acceptance by the community at large. Volunteers will landscape, mulch and beautify the exterior of Itineris.
Friday, April 26: The Arc of Baltimore at Dundalk and The Arc of Baltimore at Parkville, MD: Volunteers will be working with The Arc at their day/employment centers. Volunteers will help with adaptive sports, corn hole, art classes, manicures, trash cleanup and have lunch and conclude with bingo and a dance party!
Saturday, May 4: The Arc of Greater Prince William County, VA: Volunteers will be working on a wide range of projects — planting flowers, painting, mulching and beautification to The Arc of Greater Prince William. This will benefit the special needs children, adults and families that they serve. Volunteers will also be working on improvements to the adjacent John D. Jenkins Park.
These projects are open to the public, and we hope you, your friends and family are able to join us at one of the above locations or at any of our Comcast Cares Day projects this year! Projects run from now through mid-May. To learn more and sign up, please visit www.comcastinthecommunity.com/.
From our dedicated Accessibility Lab to our local offices, we're focused on enriching the customer experience for all. For more information about our commitment to accessibility, visit www.xfinity.com/accessibility or www.xfinity.com/autism.