Comcast announced it has awarded $20,000 to The Maryland Center for Veterans Education and Training (MCVET) to help veterans throughout Baltimore with broadband adoption and digital skills training, as well as 100 laptops to participating veterans. MCVET is a nonprofit that has provided 14,000 veterans in need with workforce training, food assistance and shelter since 1993.
This donation is part of Project UP, Comcast's 10-year, $1 billion commitment to advance digital equity through programs and community partnerships that connect people to the Internet, advance economic mobility, and open doors for the next generation of innovators, entrepreneurs, storytellers and creators.
"This investment will take our workforce training programs to the next level by ensuring veterans in need have the skills to thrive in today's digital economy," said Misty Bruce, Executive Director of The Maryland Center for Veterans Education and Training (MCVET). "We applaud Comcast for deepening its partnership to advance digital equity in the veteran community and ensure no one is left behind in our shared mission to close the digital divide. Our motto is 'it takes the entire community to help a veteran heal.'"
The laptops were presented to local veterans by Comcast's Executive Vice President, Public Policy & Executive Vice President, Digital Equity, Broderick Johnson, and members of Comcast's local Veterans Network Employee Resource Group.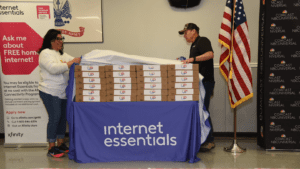 "The military community gives so much of themselves for others and we are proud to partner with community leaders like MCVET to help open the doors to more opportunities for economic advancement," said Broderick Johnson, Executive Vice President, Public Policy & Executive Vice President, Digital Equity at Comcast. "Getting more veterans online and helping them learn digital skills is at the heart of our mission. We want to ensure all members of the military community are able to get online and access the benefits they have earned through their or their loved one's service to our nation."
In addition to the donation, Comcast volunteers joined the Sportsman Channel to prepare and provide meals for more than 100 veterans at MCVET's facility in Baltimore as part of the Hunt.Fish.Feed. program, which was initiated in 2007 by the Sportsman Channel to help feed people in need. The 2023 Hunt.Fish.Feed. tour will continue to raise awareness of the still-existing struggle with hunger in the United States. Comcast's support of the Hunt.Fish.Feed. program builds on its long history of community service and partnerships, and aligns with Team UP, the company's national employee volunteer program.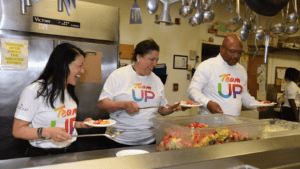 Comcast is also partnering with MCVET to help veterans in need learn about the federal government's Affordable Connectivity Program (ACP), which provides eligible low-income households with a credit of up to $30 per month toward their Internet service. Thanks to ACP, eligible Comcast customers can get home Internet through Comcast's Internet Essentials or Internet Essentials Plus at no cost once the federal credit is applied. Internet Essentials customers can also add a line of unlimited 5G cellular data ($45) through Xfinity Mobile for as little as $24.95/month after the ACP benefit is applied.
Comcast is deeply committed to advancing digital equity in the communities it serves. Over the past three years, the company has committed $31 million in cash and in-kind contributions to more than 270 local non-profits in Maryland, such as MCVET. This investment includes the installation of more than 40 Lift Zones – including 34 in Baltimore – which provide free, high-speed WiFi service to local community centers to promote digital learning.
For additional information on Project UP and Comcast's digital equity initiatives, visit https://corporate.comcast.com/impact/project-up.