On January 16, Comcast employees celebrated the life and legacy of Dr. Martin Luther King, Jr. by participating in MLK Day of Service across the Beltway Region, including:
Washington, D.C.: The Dr. Martin Luther King Jr., Holiday D.C. Peace Walk and Parade and the MLK Day Wellness Fair. Participants marched with elected officials, non-profit organizations, marching bands, military groups, local businesses and more in honor of Dr. King Jr.
Silver Spring, MD: The Maryland Governor-Elect's Office on Service and Volunteerism's Day of Service at Interfaith Works. Volunteers helped paint and restore residence halls, sort clothing, and prepare meals for members of the community.
Richmond, VA: The Clean City Commission's Dr. Martin Luther King Jr., Day of Service. Volunteers helped to clean up Saint James Street.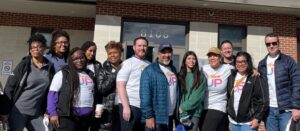 These activities align with Team UP – our always-on, 365-days-a-year volunteerism program that provides Comcast employees opportunities to further their involvement in local communities.
Additionally, Project UP is our comprehensive initiative to advance digital equity and help build a future of Unlimited Possibilities. Backed by a $1 billion commitment to reach tens of millions of people, Project UP encompasses the programs and community partnerships across Comcast, NBCUniversal, and Sky that connect people to the Internet, advance economic mobility, and open doors for the next generation of innovators, entrepreneurs, storytellers, and creators.
To learn more about our commitment, visit https://corporate.comcast.com/impact/project-up.