Comcast recently announced a $10.7 million grant project with Baltimore County to bring high-speed Internet to more than 850 homes in unserved rural areas in the northwest part of Baltimore County.
This marks the second consecutive year Comcast is expanding its smart, fast and reliable fiber-rich network deeper into Baltimore County, and combined with last year's grant, Comcast will bring its advanced broadband services to more than 1,800 additional residences in the county.
With this expansion, residents will gain access to broadband service with speeds up to 1.2 gigabits per second (Gbps), as well as the full suite of Xfinity services, including the award-winning Xfinity X1 video platform, Xfinity Flex, Xfinity Mobile, Xfinity Home, and Xfinity Voice.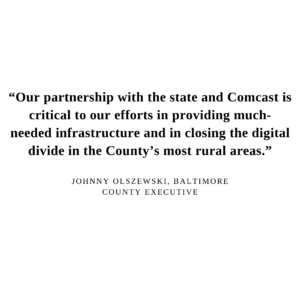 "We're proud to partner with Baltimore County to bring our advanced services, including gigabit broadband speeds, to unserved county residents," said Michael Parker, Senior Vice President of Comcast's Beltway Region. "This partnership will bolster the hundreds of millions of dollars Comcast has already invested in the state of Maryland by connecting more than 1,800 new residences to our smart, fast and reliable network – helping individuals and communities fully participate in the digital economy."
The project – which is part of the Connect Maryland initiative – will support more than 50 additional miles of broadband infrastructure and is expected to be completed in 2025.
"We are committed to expanding broadband access throughout Baltimore County, and this project is game-changing for our residents who will be served with this new connectivity," said Baltimore County Executive Johnny Olszewski. "Our partnership with the state and Comcast is critical to our efforts in providing much-needed infrastructure and in closing the digital divide in the County's most rural areas."