As Memorial Day approaches and we remember those who lost their lives while serving our country, we at Comcast remain grateful to the military community who give so much to us, our local towns and cities. Together, we share the values of leadership, service, teamwork and ethics, and we are honored to hire and partner with those who are serving or have served our nation, including military families.
In the Beltway Region, our employees are actively engaged in supporting the local military community, including these service projects and partnerships:
Friday, May 24: Employees will partner with the American Legion Carroll Post #31 to place flags on the gravesites of Veterans throughout the Westminster, MD area.
Saturday, May 25: Employees will help place flags on Veteran gravesites at Evergreen Cemetery in Finksburg, MD.
Sunday, May 26: Employees will help place flags on Veteran gravesites at the Arlington National Cemetery in Virginia.
Monday, May 27: Employees will walk in the Westminster, MD 152nd Memorial Day Parade and Observance Ceremony.
Comcast Cares Day: During the month of April and through mid-May, Comcast NBCUniversal employees, their friends and families and community partners volunteered to "make change happen" at more than 10 military focused projects in the Beltway Region, including the beautification of the Maryland Center for Veterans Education & Training (MCVET) in Baltimore, MD and the Hero Dogs facility in Gaithersburg, MD; computer refurbishment for low-income veterans in partnership with Tech for Troops in Richmond, VA; and the creation of inspirational cards and paracord bracelets for veterans throughout the Beltway Region, among others.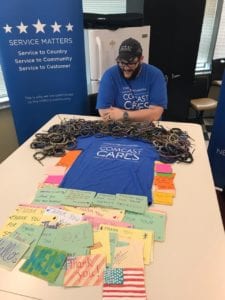 As one of America's most military-friendly employers, we have committed to hire an additional 11,000 veterans, military spouses and National Guard and Reserve members companywide, bringing our total to 21,000 military hires by the end of 2021. Comcast NBCUniversal has an expansive program to support veterans who are transitioning into the workforce, including peer-to-peer mentorship with other veteran employees, digital and in-person professional development opportunities designed specifically for veteran and military spouse employees and opportunities to stay engaged with the military through volunteering with local veteran-serving organizations.
Last year, the company announced that our Internet Essentials program expanded eligibility to low-income veterans, nearly one million of whom live within the Comcast's service area. The expansion is furthered through nationwide partnerships with the Elizabeth Dole Foundation and the PsychArmor Institute, two of America's leading veteran-serving non-profit organizations that help support the creation of veteran-specific digital skills training videos and supplementary materials. These resources are made available online and will be delivered in Comcast-sponsored computer labs or "Digital Rally Points" in the Beltway Region in two markets including Richmond, VA and Dover, DE starting this fall.
More on our company's commitment to the military community can be found here.